EXCLUSIVE PARTNER OPPORTUNITY FOR:

Feature exclusively the Playtika suite of desktop games in the MyGameRoom lobby while driving downloads.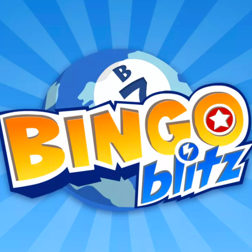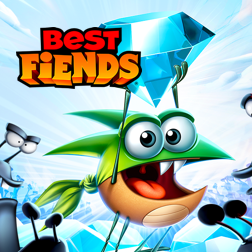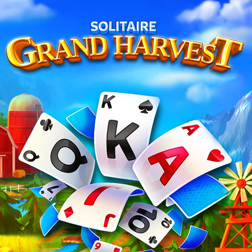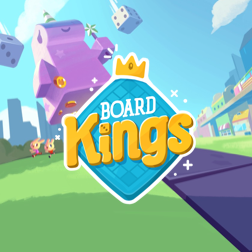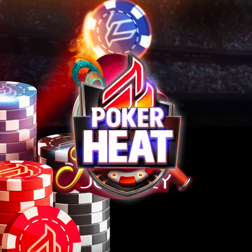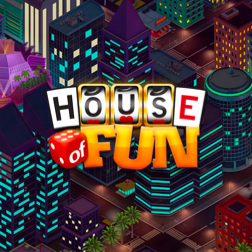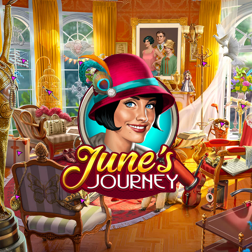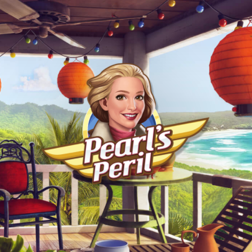 Local and/or National Activation Partnership
Low Customer Acquisition Cost
Celebrity Talent
National & Local Reach
Significant Reduction of Marketing Costs
Access to Hyper Targeted Email Databases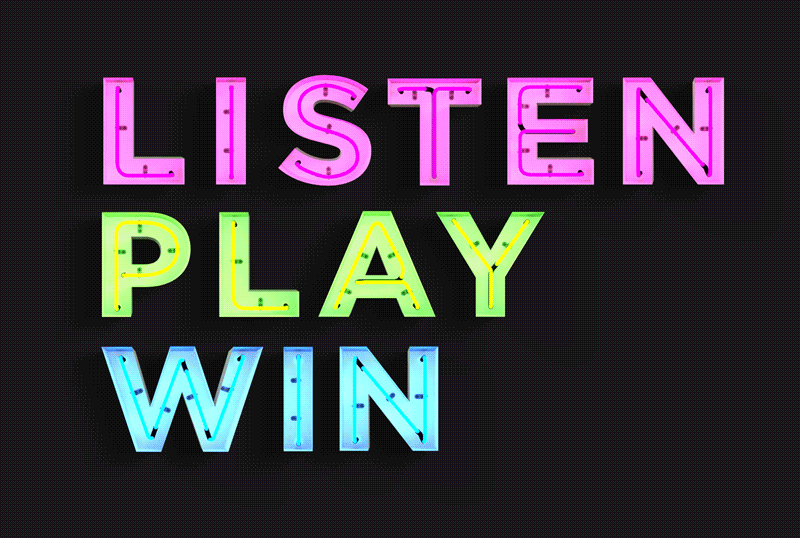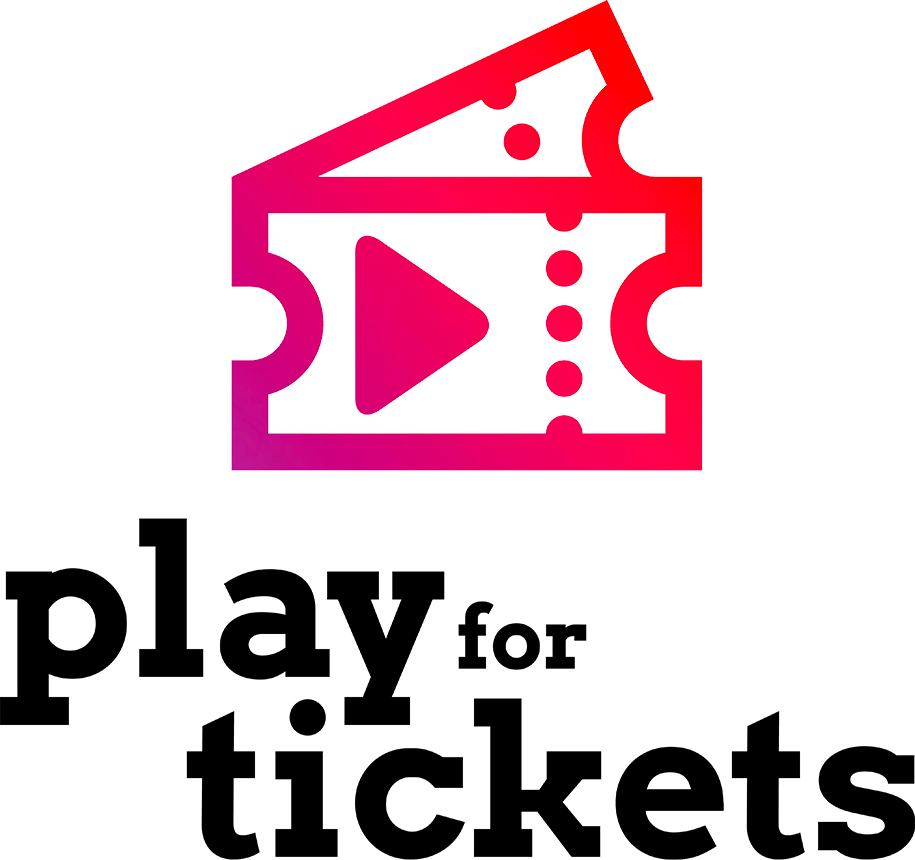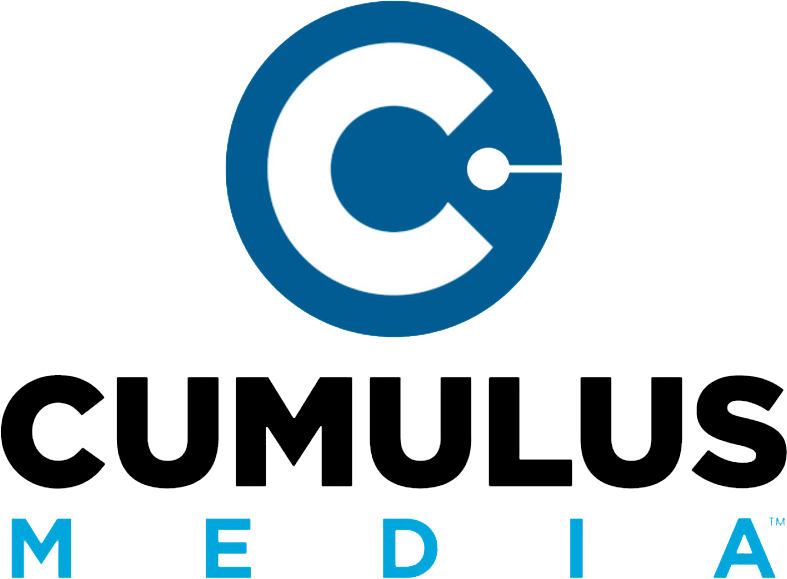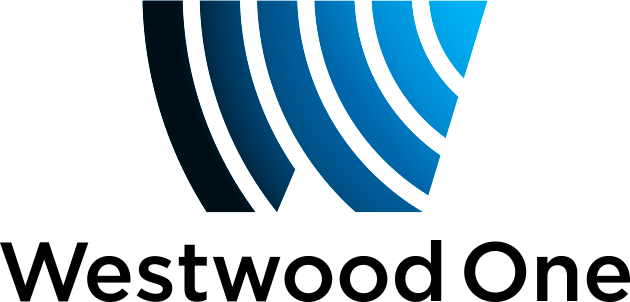 Gain exclusive access to a consolidated media package with the launch of our
radio integrated social gaming platform.
MyGameRoom has partnered with Cumulus Media (owners of Westwood One) to provide tens of millions of weekly listeners with the ability to listen to radio stations live while playing their favorite games online to win cash and prizes that include tickets to live events.
Receive a consolidated multi-platform media package
Reduction in user acquisition costs
Reduction in radio and digital marketing costs
Reach a vastly underserved market
Access to celebrity social media promotions
Access to premium targeted email databases
Customizable call-to-action campaigns
Flexible realtime messaging
Multi-platform distribution (radio, internet, social media, press releases, live events including award shows and step-and-repeats)
Measurable daily & monthly active user data
Capture forensic data around player's behavioral patterns
Access to develop customized free to play sports games
Instant US market exposure both nationally & locally
Access to large syndicated networks & programming (450+ Owned and Operated · Cumulus stations + 8,800 WWO stations)
Local on-air talent endorsements
Increase all social media such as Twitter, Facebook, Instagram with call-to-actions
Showcase Playtika's Suite of Games on over 100 radio station websites nationwide launching their MyGameRoom integrations on October 1st, 2021.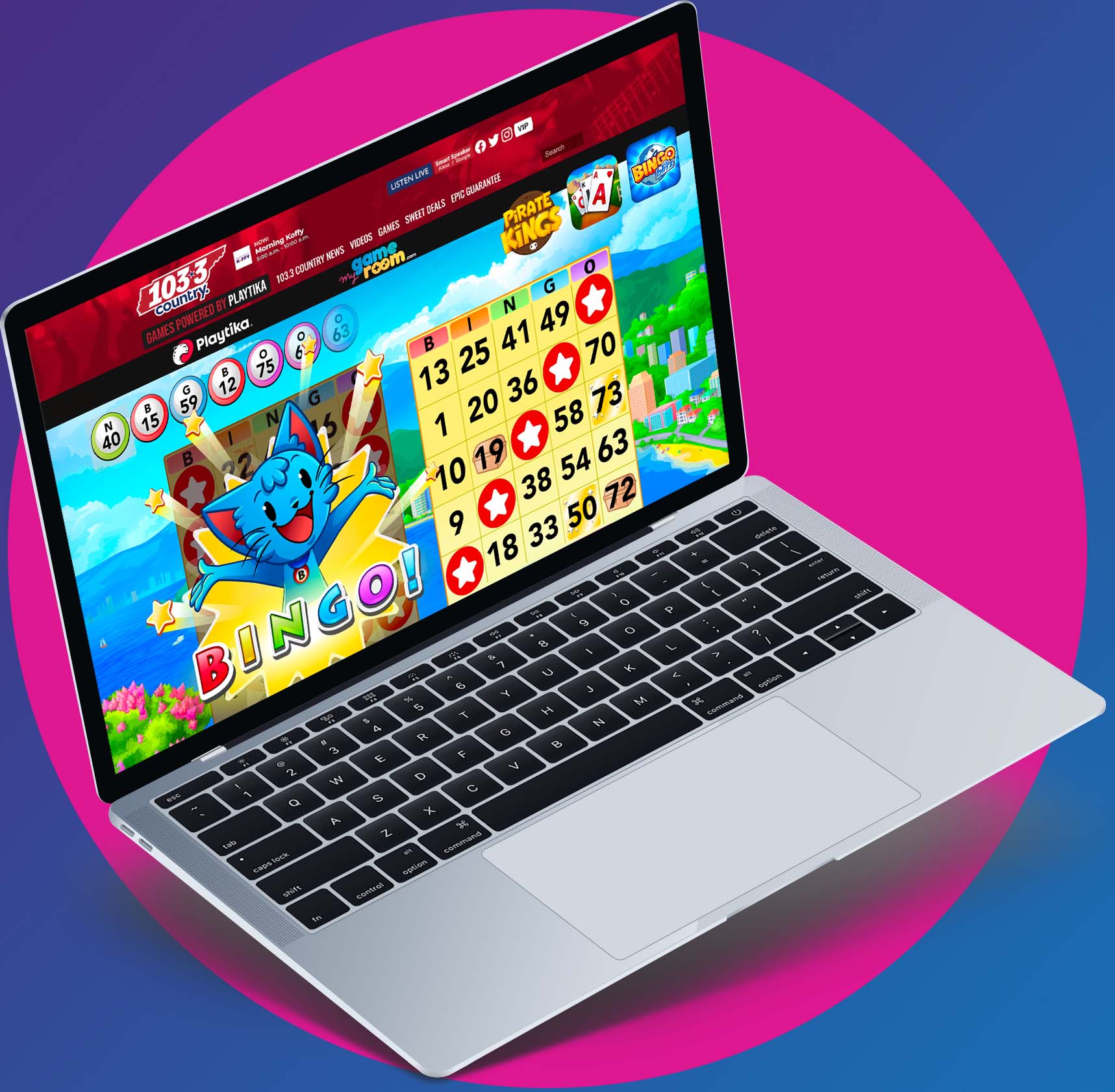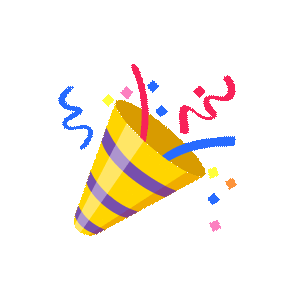 Playtika

featured and promoted daily on 100+ stations nationwide.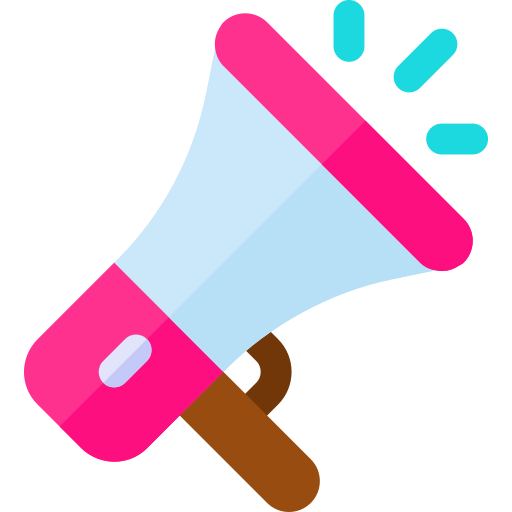 On-Air & Celebrity Promotion
Radio station on-air talent and celebrity guests promoting games and contests with call to actions.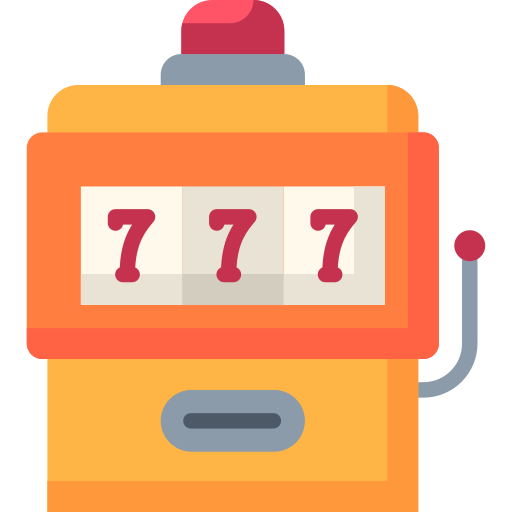 Web and mobile activations to local radio station websites with MyGameRoom integration.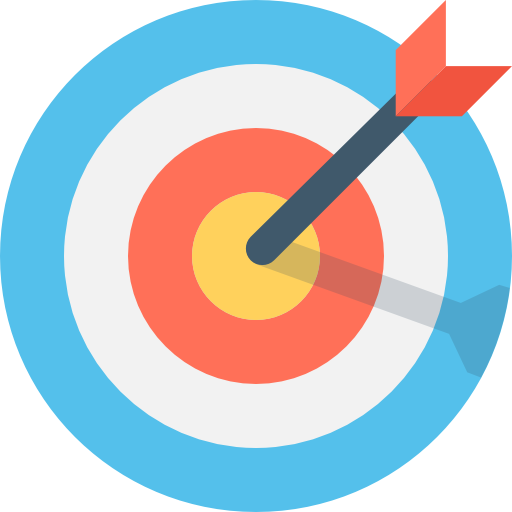 Engagement with your Brand
Listeners are engaged in free-to-play games to win cash and prizes including free tickets to live events.
Utilize access to celebrity
star power & unique prize giveaways

for your brand integration at select live events.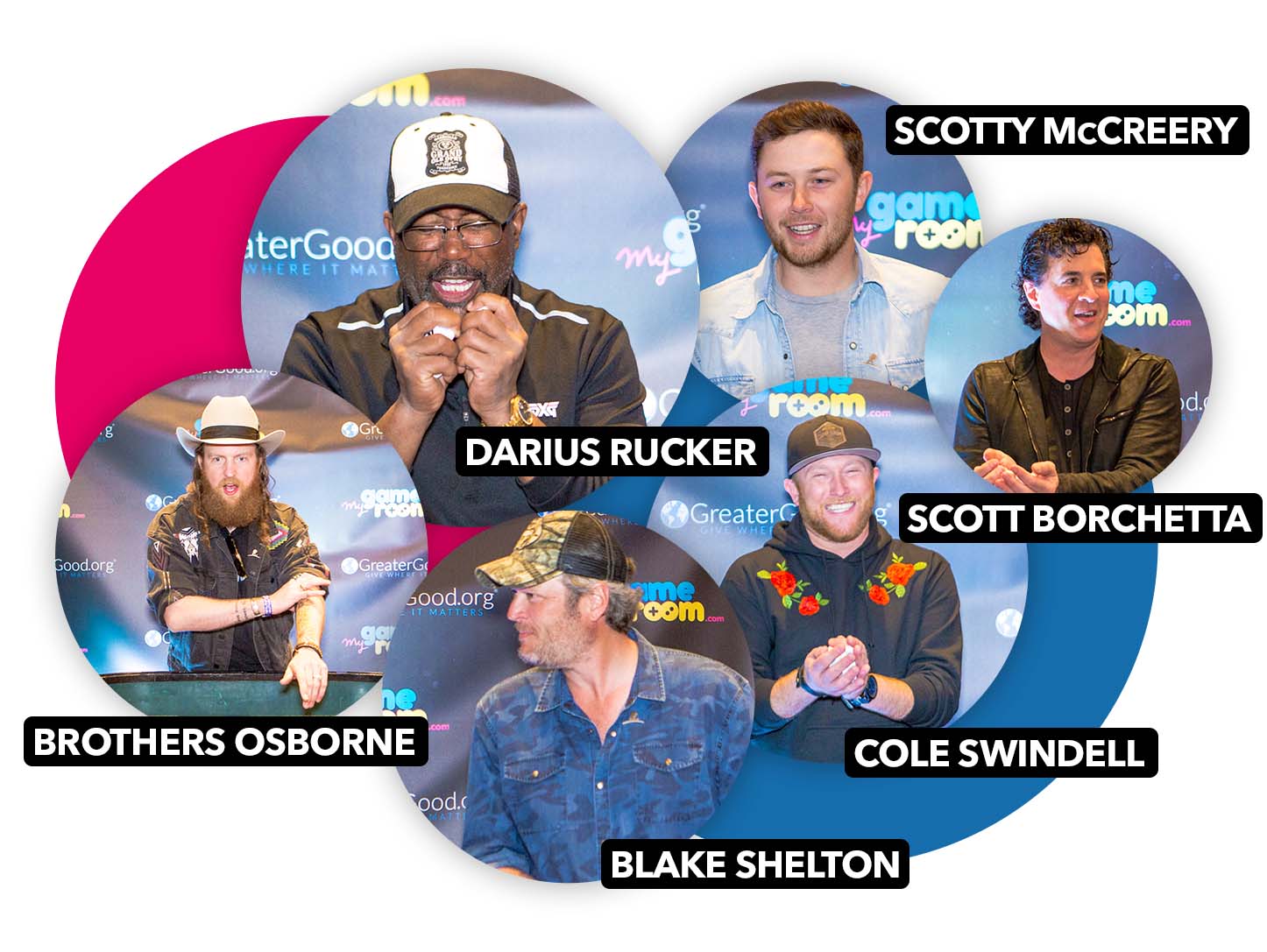 * Images from MyGameRoom Radio Row event.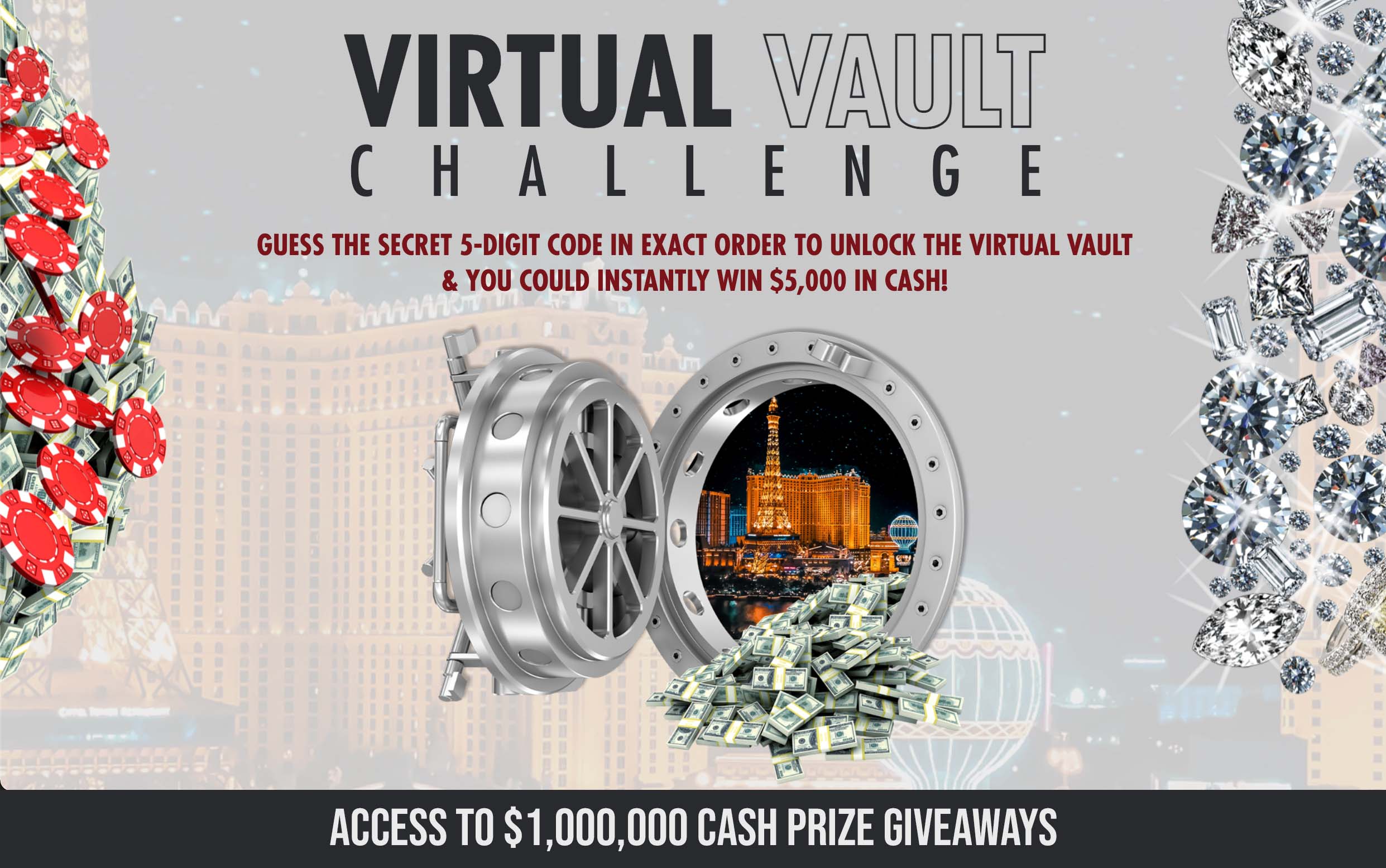 MyGameRoom
No Agency Fees
Wholesale or Discounted Rates
Full Transparency
Detailed Analytics & Audience Insights
24/7 Realtime Support
Digital Messaging in Real Time
Owner Operated
Performance Based Incentives
Consolidated Media Package
National & Local Market Activation
Live Call-to-Actions with Web Integration
Press Releases (MyGameRoom & Cumulus Media)
Daily, Weekly, and Bi-Weekly Reporting
Distribution across 100+ stations nationwide.
The MyGameRoom launch will generate tens of millions of impressions across a variety of Cumulus/WestwoodOne's country and sports media assets including on-air, digital, social and contesting. Promotions will include hundreds of on-air spots per station per week and digital assets.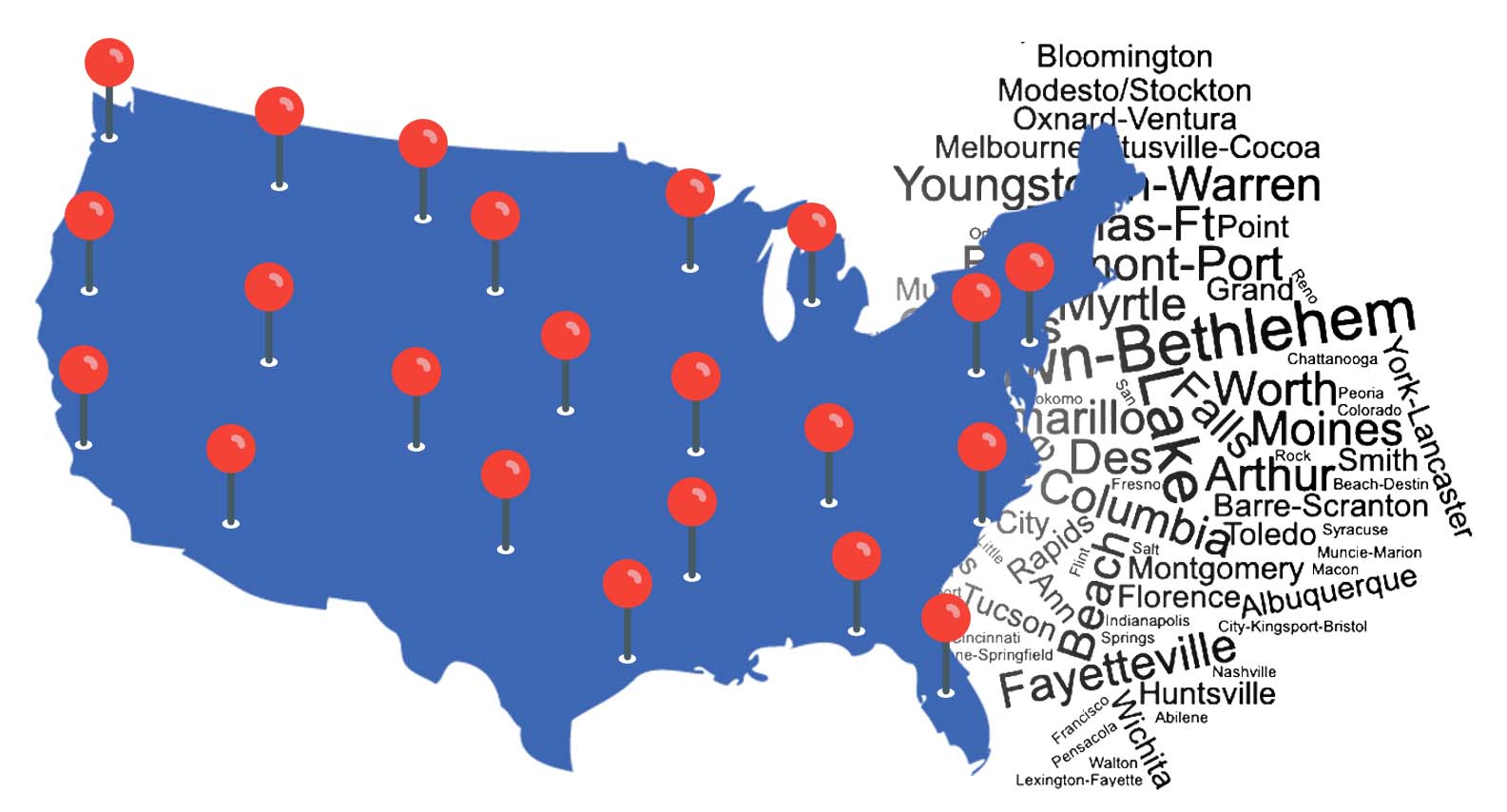 WKHX-FM
KATC-FM
KPLX-FM
WXTA-FM
WFBE-FM
WFMS-FM
WIVK-FM
WGKX-FM
WKDF-FM
WKKO-FM
WKOS-FM
KBCY-FM
KRST-FM
WCTO-FM
KARX-FM
KPUR-FM
WWWW-FM
WPKR-FM
KAYD-FM
WBWN-FM
WJBC-FM
KIZN-FM
WOGT-FM
WNNF-FM
KBBM-FM
WKOR-FM
KSCS-FM
KHKI-FM
KJJY-FM
WDRQ-FM
WDRQ-H2
KAMO-FM
WWFN-FM
KNSH-FM
KOMS-FM
WYZB-FM
KSKS-FM
WTNR-FM
WZCY-FM
WWFF-FM
WWKI-FM
KXKC-FM
KQLK-FM
KYKZ-FM
WIOV-FM
WVLK-FM
WDEN-FM
WHKR-FM
WLWI-FM
WMDH-FM
WLAW-FM
WLFF-FM
WSM-FM1
WRKN-FM
KHAY-FM
WXBM-FM
WFYR-FM
KBUL-FM
KUBL-FM
WJCL-FM
KRMD-FM
KATM-FM
WMIM-FM
KTOP-FM
KIIM-FM
KLUR-FM
KOLI-FM
WSJR-FM
WWQQ-FM
WORC-FM
WQXK-FM
Atlanta
Colorado Springs
Dallas/Fort Worth
Erie
Flint
Indianapolis
Knoxville
Memphis
Nashville
Toledo/Monroe
Tri-Cities
Abilene
Albuquerque
Allentown/Bethlehem
Amarillo
Amarillo
Ann Arbor
Appleton
Beaumont
Bloomington
Bloomington
Boise
Chattanooga
Cincinnati
Columbia/Jefferson City
Columbus/Starkville
Dallas/Fort Worth
Des Moines
Des Moines
Detroit
Detroit
Fayetteville
Florence
Fort Smith
Fort Smith
Fort Walton Beach
Fresno
Grand Rapids
Harrisburg
Huntsville
Kokomo
Lafayette
Lake Charles
Lake Charles
Lancaster
Lexington
Macon
Melbourne
Montgomery
Muncie
Muskegon
Myrtle Beach
Nashville
New Orleans
Oxnard-Ventura
Pensacola
Peoria
Reno
Salt Lake City
Savannah
Shreveport
Stockton / Modesto
Toledo/Monroe
Topeka
Tucson
Wichita Falls
Wichita Falls
Wilkes-Barre
Wilmington
Worcester
Youngstown
GA
CO
TX
PA
MI
IN
TN
TN
TN
OH
TN
TX
NM
PA
TX
TX
MI
WI
TX
IL
IL
ID
TN
OH
MO
MS
TX
IA
IA
MI
MI
AR
SC
AR
AR
FL
CA
MI
PA
AL
IN
LA
LA
LA
PA
KY
GA
FL
AL
IN
MI
SC
TN
LA
CA
FL
IL
NV
UT
GA
LA
CA
OH
KS
AZ
TX
TX
PA
NC
MA
OH
WJOX-FM
KCSF-AM
WRIE-AM
WTRX-AM
WDUZ-AF
WNML-AF
WGFX-FM
WWLS-FM
KNBR-AF
WXSM-AM
KNML-AM
WEEX-AM
WTKA-AM
KIKR-AM
WJOX-AM
WJQX-FM
KTIK-AF
WISW-AM
WNKT-FM
WSSO-AM
KTCK-AM
KBGG-AM
KUJZ-FM
KQSM-FM
KYNG-AM
WJRW-AM
WHGB-AM
WUMP-AF
WXNT-AM
KXZZ-AM
WIOV-AM
KARN-AM
WLZR-AM
WMSP-AM
WSEA-FM
TTRN-SP
WKY-AM1
KESP-AM
WSKO-AM
WQQO-H2
KTOP-AM
KCUB-AM
WSBN-AM
WARM-AM
WGLD-AM
WBBW-AM
WLLF-FM
Birmingham
Colorado Springs
Erie
Flint
Green Bay
Knoxville
Nashville
Oklahoma City
San Francisco
Tri-Cities
Albuquerque
Allentown/Bethlehem
Ann Arbor
Beaumont
Birmingham
Birmingham
Boise
Columbia
Columbia
Columbus/Starkville
Dallas/Fort Worth
Des Moines
Eugene
Fayetteville
Fayetteville
Grand Rapids
Harrisburg
Huntsville
Indianapolis
Lake Charles
Lancaster
Little Rock
Melbourne
Montgomery
Myrtle Beach
Nashville
Oklahoma City
Stockton / Modesto
Syracuse
Toledo/Monroe
Topeka
Tucson
Washington
Wilkes-Barre
York
Youngstown
Youngstown
AL
CO
PA
MI
WI
TN
TN
OK
CA
TN
NM
PA
MI
TX
AL
AL
ID
SC
SC
MS
TX
IA
OR
AR
AR
MI
PA
AL
IN
LA
PA
AR
FL
AL
SC
TN
OK
CA
NY
OH
KS
AZ
DC
PA
PA
OH
OH
Partner will receive the following benefits up to 12 months starting October 1st, 2021:
MyGameRoom powered by Bingo Blitz (mix and match any Playtika Games).

Playtika games' logos integrated into MyGameRoom on over 100 radio stations' websites.

Playtika games' title mentions in all press releases.

Playtikas games' titles could appear along with MyGameRoom on step and repeats at live events.

On-air Assets Weeks 1-12: 7,200 30sec spots (600 spots on 20 stations per week)

On-air Assets Weeks 13-52: 12,000 30sec spots (300 spots on 20 stations per week)

Digital Playtika games assets & inclusion on over 100 Cumulus radio stations' websites